Introduction
Palak gosht is a classic Pakistani dish that combines tender meat with nutrient-rich spinach, resulting in a delicious and healthy meal.Palak Gosht Recipie can be enjoyed in various forms, including palak gosht with rice, and Degi Palak Gosht, each offering a unique twist on the traditional dish.
Palak gosht is not only a delicious meal but also packed with nutrients, making it a healthy choice for any diet. In this blog post, we'll dive into the world of spinach meat, discussing the health benefits, flavor profile, and palak gosht recipe and serve this beloved dish.
Health Benefits
Palak gosht is a beloved Pakistani spinach and meat recipe that's not only delicious but also nutritious. This flavorful dish is a great source of essential vitamins and minerals, including iron, calcium, and vitamin A. Moreover, it is low in calories, with each serving containing only around 250-300 calories depending on the recipe. The combination of spinach and meat also makes it a great source of protein, which is essential for building and repairing muscles. Additionally, the high fiber content in spinach can help improve digestion and promote healthy bowel movements. Overall, it is a great meal option for those looking to enjoy a flavorful and filling dish without compromising on their health goals.
Flavor Profile for Palak Gosht
Palak gosht is a dish that's as delicious as it is healthy. Depending on the recipe, the flavor profile can vary. Palak gosht is a dish that has a distinct smoky taste due to cooking the meat in a deg, a traditional clay pot. Another classic way to enjoy palak gosht is with rice, which brings out the creamy texture of the spinach and the tender meat.
No matter which recipe you use, the spinach in palak gosht offers a subtle earthy taste that complements the savory meat beautifully. Palak gosht is further enriched with a blend of spices including cumin, coriander, and garam masala, which contribute to a warm and complex taste with every bite, making the dish more flavorful. It can be enjoyed either on its own or with a side of rice, making it a delicious and fulfilling meal suitable for any occasion.
How to Make Palak Gosht
Ingredients:
1 1 boneless chicken (breast or thigh), cut into bite-size pieces
2-3 cups of spinach (fresh or frozen)
1 large onion, finely chopped
2-3 garlic cloves, minced
1 inch ginger, grated
1-2 green chilies, sliced (optional)
2-3 tomatoes, chopped
1 tsp cumin seeds
1 tsp coriander powder
1/2 tsp turmeric powder
1/2 tsp red chili powder
1 tsp garam masala
Salt, to taste
2 tbsp oil or ghee
Water, as needed
Note: The exact measurements and ingredients may vary depending on the recipe and personal preference. Some recipes may also include additional spices or ingredients such as yogurt or cream.
Instructions:
Following are the steps that show how to prepare palak gosht
Total Time: 1 hour and 30 minutes
Heat oil
Heat oil or ghee in a pan and add cumin seeds. Let them splutter for a few seconds.
Add chopped onions and sauté until golden brown.
Add chopped items
Heat oil or ghee in a pan and add cumin seeds. Let them splutter for a few seconds.
Add chopped onions and sauté until golden brown.
Add spices
Add coriander powder, turmeric powder, and red chili powder. Stir well.
Add the chicken pieces and cook until they are browned on all sides.
Add a cup of water and let the chicken cook on medium heat until it's tender and cooked.
Blanch the spinach
Blanch the spinach in boiling water in a separate pan for a few minutes. Drain the water and let the spinach cool down.
Blend the cooled spinach into a smooth paste.
Add spinach paste to chicken
Add the spinach paste to the chicken and mix well.
Add garam masala and salt to taste. Cook on low heat for 5-7 minutes or until the gravy thickens to your desired consistency.
Garnish and serve
Dish out, garnish and serve hot with rice or naan.
Note: To make degi palak gosht, you can use a deg (a traditional clay pot) for cooking the chicken and spinach together. This will infuse the dish with a smoky flavor unique to degi palak gosht. Additionally, the number of calories in palak gosht can vary depending on the recipe and serving size.
If you want to reduce the calorie content, use low-fat yogurt instead of cream and reduce the amount of oil used in the recipe.
Serving suggestions :
Here are some serving suggestions:
Rice
Palak gosht with rice is a classic combination that never gets old. Whether it's plain white rice or fragrant basmati rice, it's the perfect accompaniment to this hearty dish.
Naan
Naan is a popular Indian flatbread that pairs well with spinach meat dish. It's perfect for soaking up all the delicious sauce.
Salad
A side salad is a refreshing addition to any meal. Try a simple salad of mixed greens, sliced cucumbers, and tomatoes. You can also add some sliced onions and a sprinkle of chaat masala for extra flavor.
Pickles
Mango or lime pickles can be added to palak gosht to give it a tangy and spicy taste.These pickles can help to balance out the richness of the palak gosht dish.
Yogurt
A dollop of yogurt on top is a great way to add some creaminess and tanginess.
Roti
Roti is an Indian flatbread that is often paired with meat and spinach curry dishes. It has a thin and light texture, which makes it a lighter alternative to naan. Despite being thinner, Roti is still delicious and adds an excellent flavor and texture to the meal.
Degi Palak Gosht
If you're feeling adventurous, try making degi palak gosht. This variation of the dish is cooked in a deg, a traditional Indian cooking vessel, which gives it a unique smoky flavor.
These are just a few suggestions – feel free to experiment with different sides and variations to find your favorite combination!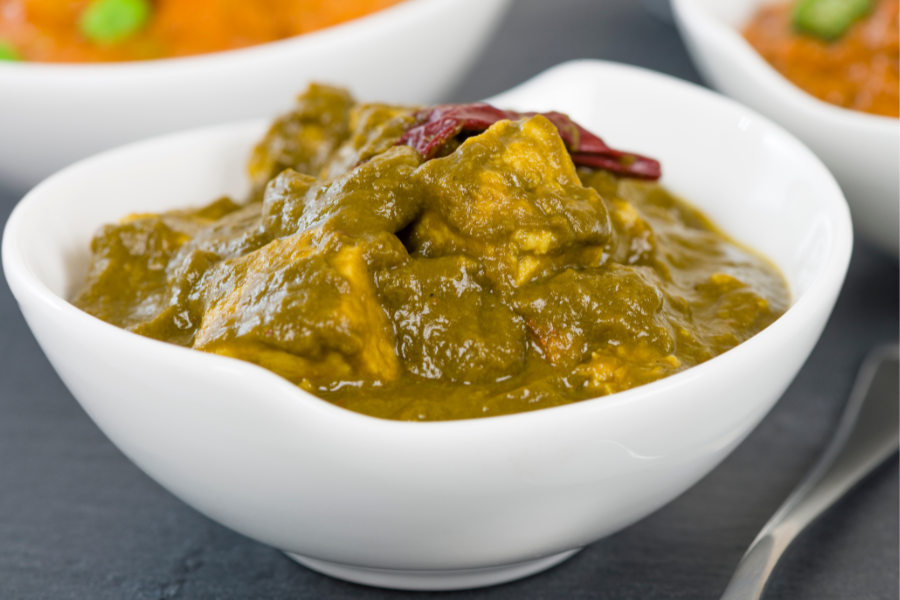 Conclusion:
Palak gosht is a tasty and nutritious dish that people all over the world enjoy. It combines tender meat, hearty spinach, and flavorful spices to make a satisfying and wholesome meal that's suitable for any occasion.This dish offers a variety of ways to be enjoyed, from the classic recipe to more adventurous versions. If you're seeking a tasty and comforting meal, you should consider trying palak gosht and savoring its rich and delightful flavors.
FAQs
What are the main ingredients in spinach meat?
The main ingredients are meat, spinach, onions, tomatoes, ginger, garlic, and a blend of Indian spices.
What are the health benefits?
It is a nutritious dish that is high in protein, iron, and vitamins A and C. The spinach in the dish is particularly good for you, as it is a rich source of antioxidants, fiber, and a variety of vitamins and minerals.
Is spinach meat spicy?
The level of spiciness can vary depending on the recipe and the cook's preference. However, it is typically a mildly spiced dish that is suitable for most people's tastes.