"Exploring the Ingredients in Falooda: What Makes this Dessert So Unique"
Get ready to indulge in one of India's most refreshing and unique desserts – Faluda. With its origins dating back to the Mughal Empire, this chilled treat has become a beloved staple in Indian cuisine and has gained popularity worldwide. Falooda is a perfect combination of sweet, creamy, and refreshing flavours, featuring vermicelli noodles, rose syrup, basil seeds, and various other ingredients. This post will cover Falooda's history, unique ingredients, and tips for making a perfect batch. Whether you're a new or seasoned lover, Falooda is sure to become a new favorite.
People have enjoyed Falooda as a popular dessert in India and neighbouring countries for centuries. The dessert's roots trace back to the Persian Empire, where people commonly consumed a similar dessert called flooda. When the Mughals ruled India in the 16th century, they brought flooded with them and adapted the recipe to include local ingredients such as vermicelli noodles, milk, and rose syrup. This fusion resulted in the birth of falooda, which quickly became a staple dessert in the Indian subcontinent.
Over time, Falooda Recipe has evolved into many different variations. In Pakistan, for example, Kulfa Falooda Recipe is a popular variation that includes a scoop of ice cream on top of the dessert. This version replaces the rose syrup with kulfi (a type of Indian ice cream), and the vermicelli noodles are often replaced with basil seeds or jelly. Rabri Falooda, another variation, includes a rich and creamy rabri (sweetened condensed milk) instead of rose syrup.
Ingredients in Falooda:
Vermicelli noodles
Milk (dairy or non-dairy)
Rose syrup or Rooh Afza (a concentrated fruit syrup)
Basil seeds (also known as Sabja seeds)
Sweetened condensed milk or Rabri
Ice cream (optional)
Chopped nuts (such as pistachios or almonds)
Cardamom powder (optional, for added flavor)
Saffron strands (optional, for added color and flavor)
Instructions:
Soak basil seeds in 1 cup of water for 30 minutes until they swell up.
Cook the vermicelli noodles in a pot of boiling water according to package instructions. Drain and rinse with cold water to stop the cooking process.
In a large pot, bring the milk to a boil over medium heat. Reduce the heat to low and add the sugar. Stir until the sugar dissolves.
Add the rose syrup to the milk and stir well.
Add the soaked basil seeds and the cooked vermicelli noodles to the milk mixture. Stir well and turn off the heat.
Let the mixture cool down to room temperature, then chill in the refrigerator for at least 30 minutes.
To serve, pour the chilled falooda into glasses and add a scoop of ice cream (if using). Sprinkle chopped nuts and fruits over the top.
Serve with a spoon and a wide straw to enjoy the noodles and basil seeds.
Some Flavours:
Kulfa Falooda is a popular Pakistani dessert loved by people of all ages. This delightful dessert is a perfect blend of rich and creamy kulfa ice cream, vermicelli, sweet basil seeds, and topped with rose syrup and nuts. It is a refreshing and satisfying treat, especially during hot summer days. In this post, we will explore the origins of Kulfa Falooda and share a delicious recipe to make this sweet and decadent dessert at home.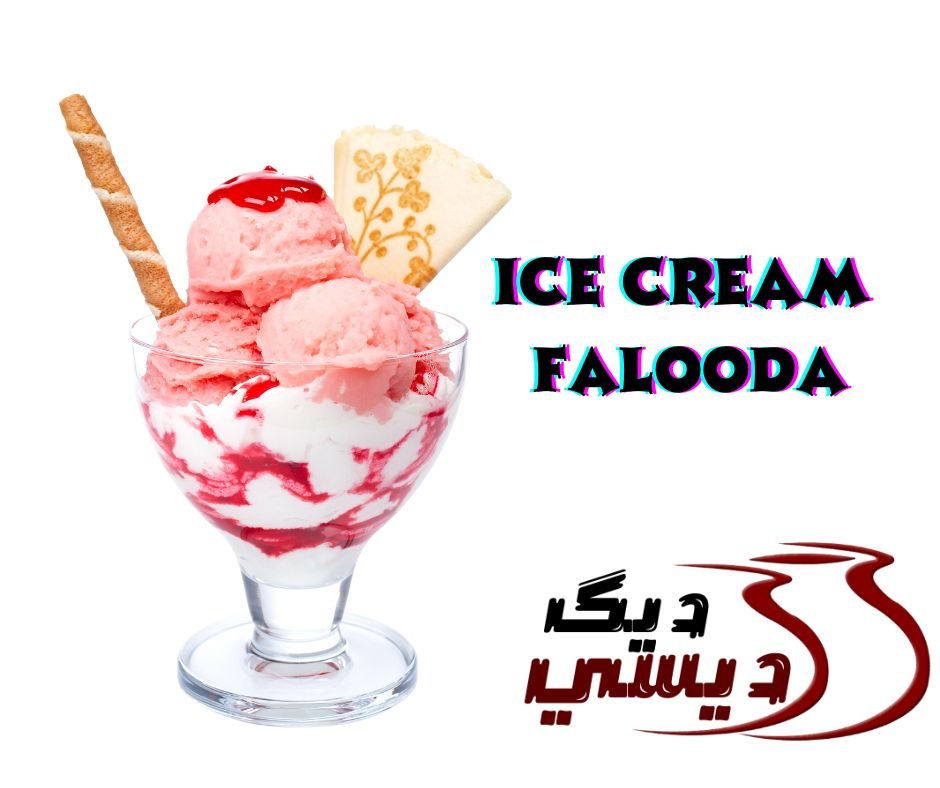 Looking for a delicious and refreshing dessert to beat the summer heat? Look no further than the irresistible ice cream falooda! This classic Indian dessert combines vermicelli noodles, rose syrup, sabja seeds, ice cream, and other toppings to create a delicious and satisfying treat. Whether you're a longtime fan or trying it for the first time, this dessert will satisfy your sweet tooth and cool you down on even the hottest days.
Rabri falooda is a popular dessert that has been enjoyed by generations of people in the Indian subcontinent. Rabri falooda has layers of noodles, rabri, nuts, rose syrup, and fruits. It's a tasty dessert for hot summer days.
How to make jelly for Falooda?
To make jelly for falooda, follow these simple steps:
Ingredients:
In a medium-sized saucepan, bring 2 cups of water to a boil.
Turn off the heat and add the jelly powder to the boiling water. Stir well until the powder is completely dissolved.
Let the mixture cool down for 5-10 minutes.
Once the mixture has cooled down, pour it into a container and let it set in the refrigerator for at least 2-3 hours, or until the jelly has completely set.
Once the jelly has set, cut it into small cubes or desired shapes using a knife or cookie cutter.
Add the jelly cubes to your falooda along with other ingredients such as vermicelli noodles, sweet basil seeds, rose syrup, and chilled milk.
Give it a good stir and serve chilled.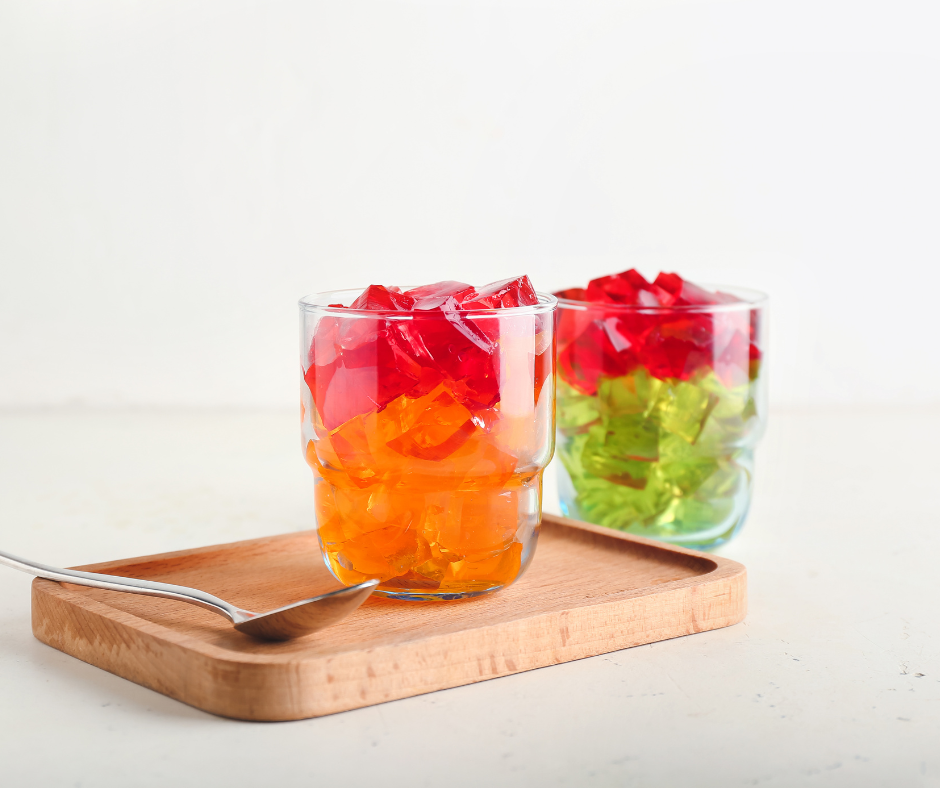 Sure, here are some pro tips for making and enjoying falooda:
Soak the basil seeds in water for at least 20 minutes before using them. This will allow them to plump up and become jelly-like, enhancing the texture of your falooda.
Cook the vermicelli noodles al dente, so they are still slightly firm to the bite. Overcooking them can make them mushy and ruin the texture of your falooda.
Use good quality ingredients, such as rose syrup, kulfi ice cream, and fresh fruits to enhance the flavor and presentation of your falooda.
Don't overcrowd your glass with ingredients. Layer them neatly, so each ingredient is visible and can be enjoyed separately.
Serve your falooda chilled, either by refrigerating it before serving or by adding ice cubes to the glass.
Experiment with different flavors and toppings, such as mango or pistachio kulfi, or fresh fruit like strawberries or bananas, to make your falooda unique and personalized.
Make sure to mix your falooda well before drinking to combine all the flavors and textures.
Follow these pro tips to take your falooda game to the next level and impress your friends and family with this delicious dessert!
Presentation and Serving:
Presentation and serving are crucial aspects of enjoying falooda. This refreshing and delicious dessert is not only a treat for the taste buds but also a feast for the eyes. With its colorful layers of vermicelli noodles, sweet basil seeds, jelly cubes, rose syrup, and creamy kulfi ice cream, falooda is a work of art in a glass.
1 . Creative ways to present falooda
Sure, here are some creative ways to present falooda:
Layered Mason Jars: Serve falooda in tall, clear mason jars, layered with different ingredients to create a beautiful and appetizing presentation.
Shot Glasses: Use small shot glasses to serve individual portions of falooda, garnished with a slice of fruit or a sprig of mint.
Ice Cream Sundae Glasses: Use a classic ice cream sundae glass to serve falooda, layered with different ingredients and topped with whipped cream and a cherry.
Martini Glasses: For a fancier presentation, serve falooda in martini glasses, garnished with a slice of fresh fruit or a small umbrella.
Fruit Boats: Cut a ripe watermelon, cantaloupe or pineapple in half, hollow out the center, and use it as a boat to serve your falooda. This will add a unique twist to the presentation and make it a fun, tropical treat.
DIY Faluda Bar: Set up a DIY faluda bar with bowls of different ingredients, allowing your guests to create their own falooda creations. This interactive presentation is perfect for parties and gatherings.
2 . Tips for serving and garnishing falooda
Sure, here are some tips for serving and garnishing falooda:
Chill Your Glasses: Place your glasses in the freezer for a few minutes before serving to ensure that they are chilled. This will help keep your faluda cool and prevent it from melting too quickly.
Drizzle with Rose Syrup: Drizzle some extra rose syrup on top of your falooda to enhance the flavor and add a beautiful pink hue to the presentation.
Top with Nuts: Add a crunch to your faluda by sprinkling chopped nuts, such as almonds or pistachios, on top of your dessert.
Use Fresh Fruits: Top your faluda with slices of fresh fruit, such as strawberries or mangoes, to add a pop of color and freshness.
Top your faluda with whipped cream and fruit for extra indulgence.
Use Edible Flowers: Garnish your faluda with edible flowers, such as rose petals or marigold, for an elegant touch.
Serve with a Spoon and Straw: Provide your guests with both a spoon and straw to enjoy their falooda fully. The spoon can be used to scoop up the different layers, while the straw can be used to sip the rose syrup and kulfi ice cream.
Add Your Heading Text Here:
Sure, here are some health benefits of falooda:
Rich in Antioxidants: Falooda in pakistan contains several antioxidant-rich ingredients, such as rose syrup and basil seeds. These antioxidants help to protect your cells from damage caused by free radicals and may help reduce the risk of chronic diseases.
The vermicelli noodles in falooda are a good source of fiber. This can improve digestion, regulate blood sugar levels, and promote fullness.
Falooda Recipe has essential nutrients like calcium, potassium, and vitamin C to help maintain strong bones, healthy blood pressure levels, and a robust immune system.
May Help Relieve Stress: Rose syrup, which is a key ingredient in faluda, has been shown to have a calming effect on the body and may help reduce stress and anxiety levels.
Falooda may regulate body temperature and prevent dehydration due to its cooling properties from rose syrup and basil seeds, commonly consumed in hot weather.
Conclusion:
In conclusion, faluda is a refreshing and delicious dessert that offers several potential health benefits. It contains a variety of ingredients that are rich in antioxidants, fiber, and essential nutrients. Additionally, the rose syrup and basil seeds used in faluda are believed to have cooling and stress-reducing properties. However, it's important to enjoy faluda in moderation as it may be high in calories and added sugars. Faluda is a beautiful and indulgent dessert for special occasions or sweet treats.
FAQ's
What is Falooda?
Falooda is a popular dessert in India, Pakistan, and other South Asian countries. It typically consists of vermicelli noodles, basil seeds, milk, ice cream, and a syrup or flavored milk. It is often served in a tall glass and is known for its unique texture and flavors
2 . What are the unique ingredients used in Falooda?
The unique ingredients used in Falooda include vermicelli noodles, basil seeds, rose syrup or Rooh Afza, flavored milk, and ice cream. Some variations may also include fruits, nuts, or other toppings.
3 . Can I make Falooda at home?
Yes, Falooda can be made at home with the right ingredients and recipe. The process involves cooking vermicelli noodles, soaking basil seeds, preparing flavored milk or syrup, and layering the ingredients in a tall glass with ice cream. There are many recipes and variations available online to make Faluda at home
4 . Is Faluda a healthy dessert option?
Falooda is a dessert that is high in sugar, fat, and calories due to the use of ingredients such as flavored syrup, ice cream, and sweetened milk. While it can be enjoyed in moderation as a treat, it is not considered a healthy dessert option. However, some variations of Faluda may include healthier ingredients such as fresh fruits, nuts, or seeds, which can provide some nutritional benefits.
5 . How can I serve Faluda to make it even more appealing?
To make Faluda more appealing, layering the ingredients in a tall glass and adding toppings such as chopped nuts, fresh fruit, whipped cream, or a cherry on top can enhance the presentation. Serving Faluda with traditional Indian snacks or sweets like samosas or jalebi can provide a satisfying dessert experience.