Introduction
Are you a fan of spicy food? Then you must try Chicken Karahi recipe- a mouth-watering dish staple in Pakistani and Indian cuisine. In this blog post, we've covered everything you need to know about Chicken Karahi. Learn about its history and origin, check out our best Chicken Karahi recipe with a step-by-step guide, find out where to locate the best Chicken Kadahi near you, and discover the number of calories in this dish. Whether you're a seasoned fan or a newcomer, keep reading to spice your dinner with Chicken Karahi.
Table of contents
History and origin of chicken karahi:
Chicken Karahi, also known as Kadai Chicken, Chicken Kadhai, Murgh Karahi, or Murgh Kadai, is a popular spicy dish that originated in the Punjab region of South Asia. "karahi" or "kadai" refers to a type of work traditionally used for cooking the dish.

The history of Chicken Karahi can be traced back to the Mughal era when it was a favourite dish among the royal court. Over time, the dish spread throughout the Punjab region and became a staple in Pakistani and Indian cuisine.
Today, Murgh Kadahi is enjoyed by people of all ages and is commonly found in restaurants and homes throughout South Asia and beyond. It is particularly popular in Pakistan and India, often served at weddings and other special occasions.
Importance of Murgh Kadahi in Pakistani and Indian cuisine:
Chicken Kadhai is a dish that holds a special place in Pakistani and Indian cuisine. It is more than just a meal; it symbolizes hospitality that brings people together. In addition, the mixture of  spices and soft chicken creates a flavor that is difficult to resist.
Overall, Chicken Kadhai is liked by millions of people in the world. Whether you prefer the spicy and tangy taste or the rich and aromatic taste, you must try this dish.
How to make chicken karahi"
Here is an easy steps for delicious chicken karahi recipe
Total Time: 1 hour and 5 minutes
Ingredients
1 kg bone-in chicken, cut into small pieces
2-3 tablespoons vegetable oil
2-3 medium-sized onions, finely chopped
2-3 medium-sized tomatoes, finely chopped
1 tablespoon ginger paste
1 tablespoon garlic paste
1-2 green chilies, finely chopped
1 teaspoon red chili powder
1 teaspoon cumin powder
1 teaspoon coriander powder
1/2 teaspoon turmeric powder
1 teaspoon garam masala powder
Salt, to taste
Fresh coriander leaves, for garnishing
Preparation method of chicken karahi:

Heat 2-3 tablespoons of vegetable oil over medium-high heat until it is hot but not smoking in a large kadhai or skillet.
Add the finely chopped onions and sauté until they turn translucent and slightly golden brown. This should take around 5-7 minutes.
Next, add one tablespoon of ginger, one tablespoon of garlic, and 1-2 finely chopped green chilies to the kadhai. Sauté for another minute or two until the raw smell of the ginger and garlic disappears.
Add 2-3 finely chopped medium-sized tomatoes to the kadhai and cook until they turn soft and mushy. This should take around 5-7 minutes.
Add 1 kg bone-in chicken pieces to the kadhai and cook on high heat until the chicken turns golden brown. Stir occasionally to prevent the chicken from sticking to the bottom of the kadhai.
Reduce the heat to medium-low and add one teaspoon red chili powder, one teaspoon cumin powder, one teaspoon coriander powder, 1/2 teaspoon turmeric powder, one teaspoon garam masala powder, and salt to taste. Mix well to ensure the chicken pieces are evenly coated with the spices.
Cover the kadhai with a lid and let the chicken cook for about 20-25 minutes or until it is fully cooked. Stir occasionally to ensure that the chicken cooks evenly.
Once the chicken is fully cooked, remove the lid and increase the heat to high. Cook for another 5-7 minutes until the gravy thickens and the oil starts to separate. This will help to enhance the flavor of the chicken karahi.
Garnish the chicken karahi with fresh coriander leaves and serve hot with naan or rice.
With these simple yet detailed steps, you can prepare a mouth-watering Chicken Karahi to impress your guests or loved ones.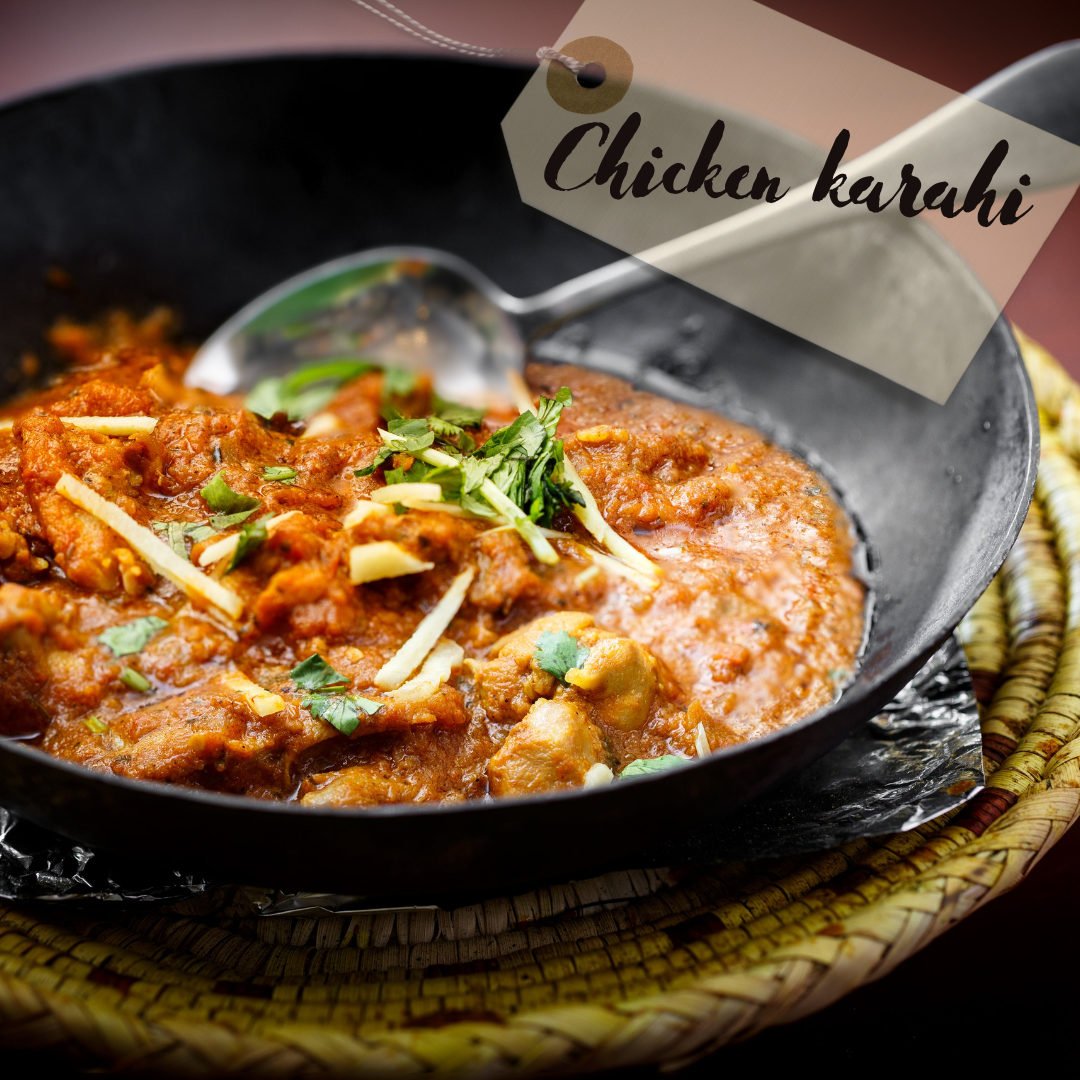 Nutritional Information and Health Benefits of Chicken Kadahi:
Chicken kadhai is a delicious and flavorful dish and offers various health benefits. If you're curious about the nutritional value and health benefits of Chicken kadhai, read on.
Nutritional Information of Chicken Karahi:
Calories in chicken karahi
A serving size of Chicken kadhai, which is about 200 grams, provides approximately 360-400 calories.
It's also a good source of protein, with around 25-30 grams per serving, which is essential for building and repairing muscles and aids in weight management.
The dish contains vitamins and minerals, including C, A, iron, and calcium.
Health Benefits:
In addition to its delicious flavor, Chicken kadhai also offers potential health benefits due to the presence of antioxidant-rich tomatoes and onions that can help strengthen the immune system and combat various diseases.
The spices used in the recipe, such as ginger, garlic, and turmeric, have anti-inflammatory and antibacterial properties, which can help prevent infections and reduce inflammation in the body.
The vegetable oil in the recipe provides healthy fats that can help reduce the risk of heart disease.
However, keep in mind that Chicken kadhai can also be high in sodium due to the use of salt and other seasonings. It's important to consume it in moderation as part of a balanced diet to ensure you get all the health benefits without overconsumption of any nutrient.
In summary, Chicken kadhai is a delicious and nutritious dish that can be enjoyed as part of a healthy diet. You can make this dish a healthy addition to your meal plan with the right ingredients and cooking techniques.
Serving Suggestions and Pairings for Chicken karhai
Murgh Kadahi is a delicious and satisfying dish that can be enjoyed independently or with various sides and accompaniments. In fact, this versatile dish can be paired with a range of different foods to create a well-rounded meal. Whether you choose to enjoy it alone or with other dishes, you're sure to love the flavors of Murgh Kadahi. Here are some serving suggestions and pairings to help you enjoy this classic dish to the fullest:
Naan or Roti: Freshly baked naan or roti is a classic pairing with Chicken kadhai. The bread's slightly chewy texture and mild flavor make it the perfect vessel for scooping the chicken and gravy.
Rice: Plain steamed rice is another classic pairing with Chicken kadhai. The rice's mild flavor complements the dish's bold and spicy flavors.
Salad: A fresh salad can help balance out the richness of Chicken kadhai. Try a simple salad of sliced cucumbers, tomatoes, and onions with lemon juice and salt.
Raita: Raita is a yogurt-based side dish that can help cool down the spiciness of Chicken kadhai. You can make raita at home by mixing yogurt with chopped cucumbers, mint, and salt.
Pickles: Indian and Pakistani pickles, or achaar, can add a tangy and spicy kick to the dish. You can find a variety of pickles at your nearest South Asian grocery store.
Chutney: Chutneys are flavorful condiments that can enhance the taste of Chicken kadhai. Some delicious options to try include mint chutney, tamarind chutney, and mango chutney. Simply add a dollop of your favorite chutney to your Chicken kadhai to take its taste to the next level!
When serving murgh Karahi, you can present it on a large platter garnished with fresh cilantro leaves or sliced green chilies. You can also pair it with a refreshing drink like lassi or a cold beer to help balance out the heat of the dish.
Whether you make Chicken kadhai at home or order it from your nearest Indian or Pakistani restaurant, these serving suggestions and pairings will help you create a well-rounded meal that will satisfy you. So search for "chicken karahi near me" or any of its synonyms to find the closest option and enjoy this classic dish to the fullest!
How to find chicken karahi near me:
Are you in the mood for some spicy and flavorful Chicken kadhai but need help finding it? Look no further than "chicken karahi near me"! There are plenty of options, whether you prefer it spicy or mild, with bone-in or boneless chicken.
One popular option is DesiDaig, an online site that delivers authentic Chicken Karahi Daig straight to your doorstep. By searching for "chicken karahi near me," you can easily find DesiDaig's delivery service in your area. Their Chicken Kadahi Daig uses traditional recipes and high-quality ingredients, ensuring you get the best possible flavor and taste.
For those who prefer a classic pairing, Chicken kadhai is often served with naan bread, rice, or roti to soak up its rich and flavorful gravy. However, if you're looking for a healthier option, consider pairing Chicken kadhai with a fresh salad or vegetable side dish.
To order from DesiDaig, simply visit their website and place your order. With their online delivery service, you can enjoy your favorite comfort food without ever leaving your home. Plus, ordering is quick and easy! With multiple options for "chicken karahi near me," there's no excuse not to indulge in this classic South Asian dish.
So why wait? Search for "chicken karahi near me" today and satisfy your cravings by ordering from DesiDaig. Whether for a solo meal or a family gathering, their Chicken kadhai Daig impresses.
Conclusion
In conclusion, Chicken kadhai is a popular and delicious South Asian dish that anyone can enjoy. With various recipes and preparation methods available, making Chicken kadhai at home is easy and convenient. Whether you prefer bone-in or boneless chicken, spicy or mild, there's a recipe to suit your taste buds.

If you're not in the mood to cook, you can easily find Chicken Karahi near you by searching for "chicken karahi near me." You can easily satisfy your cravings for this classic comfort food with multiple options available.

Even Chicken kadhai is very tasty, it's important to consider its nutritional value. The calories in Chicken Karahi can vary depending on the recipe and ingredients used, but it's usually a high-calorie dish. However, by making a few small alternations to the recipe or portion size, you can still enjoy Chicken kadhai as part of a healthy and balanced diet.
Additionally, if you are a newcomer to South Asian cuisine, Chicken kadhai is a dish sure to impress. So go ahead and try it – with the right recipe and ingredients, you can easily create a delicious and satisfying meal that everyone will love.
What is Chicken Karahi?
Chicken Karahi is a South Asian dish made with bone-in or boneless chicken cooked in a spicy tomato-based gravy with a blend of aromatic spices.
How can I make Chicken Karahi at home?
There are many recipes and variations available online for making Chicken Karahi at home. You can search for "how to make chicken karahi" or "chicken karahi recipe" to find step-by-step instructions.
How many calories in chicken karahi?
Generally, a serving of chicken karahi made with bone-in chicken and served with naan or rice can range from 400-700 calories.
Where can I find Chicken Karahi near me?
You can search for "chicken karahi near me" to find restaurants and eateries that serve this dish in your local area. Alternatively, you can also check food delivery apps or order from online sites like Desidaig.
Estimated reading time: 10 minutes